Weekly services are run on Sunday mornings starting at 10.30am and last for about an hour.
All visitors and guests are most welcome and all are invited to join us for coffee, cakes and a friendly chat after the service.
What does a Unitarian service look like?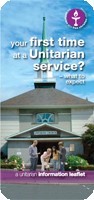 A Unitarian service can be as varied as its members and, indeed, services often vary considerably from one Unitarian congregation to another.
 Scarborough Unitarian Services
At Scarborough Unitarian Church, services focus primarily on God. However, we respect and frequently acknowledge in our services that the term or concept of 'God' can have different meanings to each of us.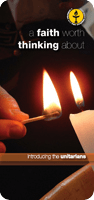 A typical service begins with a period of quiet, inward reflection, and meditation where we invite God to join us in our service. This may be accompanied by soft music designed to calm the mind and senses and prepare us for worship. It is a particularly beautiful part of the service for many.
This could be followed by prayer. Guided prayer is lead by our leader but we try to leave time afterwards for a period of personal prayer. This is a perfect occasion to present all our worries and concerns before the altar of God. We regularly end our prayers by joining in together the great prayer Jesus taught us, the 'Our Father'.
The rest of the service follows a fairly traditional 'hymn sandwich' format.
What visitors often find unique is the fact that the congregation feel comfortable in questioning our leader if they do not agree with any particular point or if they have something to add. We operate on a first-among-equals basis and some lively moments are apt to ensue on occasion.