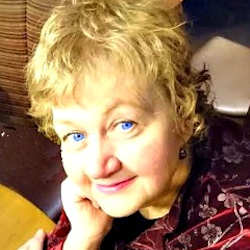 Sheena McKinnon
Name: Sheena McKinnon (had I been a boy, the story goes that I would have been named Lachlan McLachan McKinnon, after my great uncle who was also known as "Lucky Mac")
Currently a member of Bradford Unitarians and undergoing training as a Chaplain at Bradford Royal Infirmary. I live in Pudsey with a dog called Diva who many you have met, and a delightful cat called Karma.
Recently, I was co-opted onto the EC and am now the link person for Yorkshire District and  Manchester. In addition, I am a trustee of Hull Unitarians and the Nightingale Centre.
I am secretary of the Unitarian Association for Lay Ministry which supports people involved in lay ministry of all kinds. UALM has a conference every year at the Nightingale centre where we explore in depth an aspect of lay ministry.
Also, l am administrator for the Yorkshire Unitarian Lay Preachers Association. We share our meeting days with the Yorkshire Unitarian Union, having a session of specific relevance to any who have an interest in leading worship, however infrequently. We strive to promote, support and demonstrate best practice, enabling people to build their skills and confidence.